Best Podcast Mics – Revealed
In search of the best microphones for your podcast? Stop right there! Discover which podcast microphones are the finest for producing high-quality audio for your audience right now. So that you can choose the best microphone for your podcasting needs, we'll go through the features and benefits of each one.
To kick things off, let's talk about why a good mic is important.
Benefits of Using a High-Quality Podcast Mic
Podcasters can gain a number of benefits by using a high-quality podcast mic. The most notable benefit is the higher quality audio it allows for, leading to more expertly produced recordings. When recording a podcast, a high-quality microphone is essential for capturing every aspect of your speech. This can help make your recordings sound more professional and interesting to listeners.
When recording podcasts, it's much simpler to cut out unwanted sounds when using a high-quality microphone. This aids in the production of noise-free, crystal-clear sound that enhances the listening experience. You'll be able to improve the recording's quality by picking up subtleties like higher frequencies and softer tones in your voice.
If you get a good podcast microphone, you may adjust the levels and other features to suit your own requirements and tastes. Making these tweaks to the boost levels and EQ settings guarantees flawless audio playback every time. In addition, some high-quality microphones include a built-in pop filter or shock mount that helps them work better by dampening vibrations and blocking out background noise.
Now that you know why it's a good idea, let's talk about what to look for in a podcast microphone.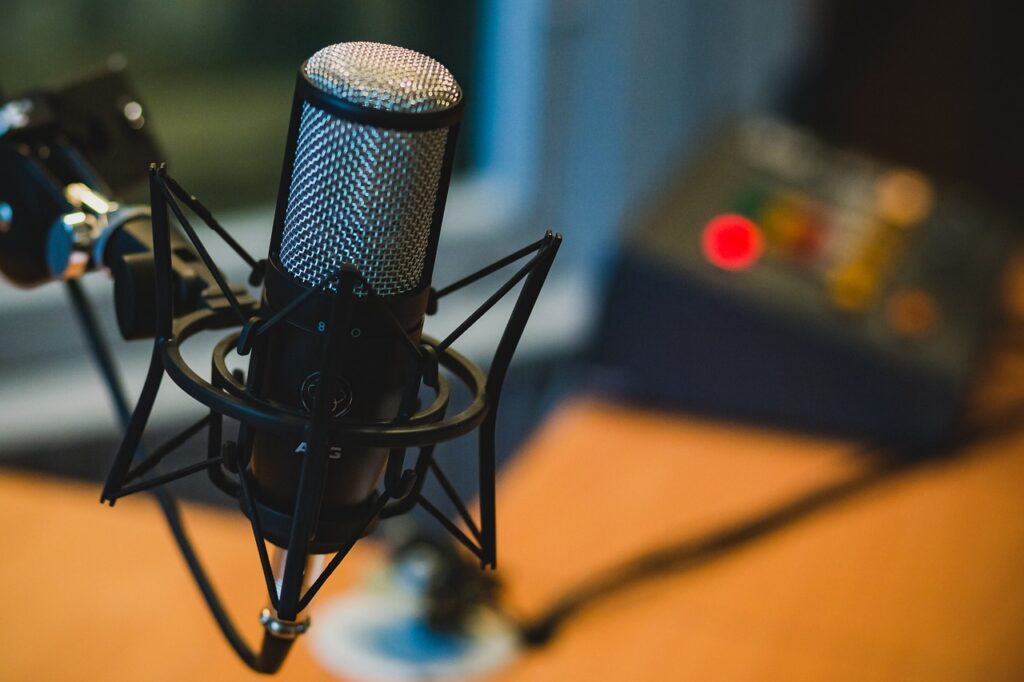 Features to Look for in a Podcast Mic
It's crucial to think about the specifics of your podcasting demands before deciding on a microphone. A microphone's audio quality and clarity varies from model to model, and some even come with handy extras that make podcasting a breeze. When shopping for a microphone, keep in mind the following features:
The frequency response determines how well and consistently a microphone records sound. Find one with a wide frequency response to record your voice or other sounds accurately.
The polar pattern of a microphone demonstrates the directional sensitivity of the device. A cardioid pattern is more responsive to noises coming from in front of the mic, whereas an omnidirectional mic picks up sound from all directions.
In general, microphones don't take up a lot of extraneous noise, but some are equipped with sophisticated noise reduction technologies tailored to the needs of podcasters. Hissing and static, which may be heard in recordings, are reduced as a result.
Look for microphones that plug into a USB port on your computer so you may use it with any audio recording software on your machine. Wireless alternatives are also available if you want some freedom of movement when recording but don't want to deal with tangled connections.
Affordable Choice: When looking for a microphone, it's important to remember that not all high-priced microphones are superior to their lower-priced counterparts. Do your homework to locate the best mic for your money.
Let's skip right to the most well-liked choices available to you.
Popular Podcast Mics
You need a high-quality microphone to record an audio that sounds professional. A wide variety of podcasting microphones are available, each with its own advantages. Some of the more common ones are discussed here.
1. Rode NT-USB
The Rode NT-USB is a fantastic option if you want professional-grade audio recordings. This microphone is perfect for generating high-quality podcasts because to its high-resolution A/D converter. Its 0.50″ capsule gives precise detail and a broad dynamic range, and its studio-grade condenser capsule produces a flat frequency response and smooth sound.
The gain knob lets listeners set the volume to their liking. You may fine-tune your recording in real-time with the help of the integrated headphone jack and zero-latency monitoring. Getting everything set up to record your podcast is a breeze, thanks to the USB connection.
Approximately $135 is the price of a Rode NT-USB microphone. Amazon, Sweetwater, and B&H Photo are just some of the many reputable online stores where you may get them.
Amazon: Because of the vast variety of options and low costs, Amazon is a fantastic location to get a Rode NT-USB microphone. Amazon is another wonderful place to get savings, especially during seasonal specials.

Sweetwater: Sweetwater is a well-known web-based shop serving the needs of musicians and audio engineers. They stock several Rode items, such as the NT-USB microphone. In addition to providing excellent service, Sweetwater also provides a 30-day money-back guarantee.

B&H Photo: Another well-known web store catering to photographers and videographers is B&H Photo. They stock several Rode items, such as the NT-USB microphone. B&H Photo also has an excellent return policy and helpful customer support staff.
2. Audio-Technica AT2035PK
When it comes to sound quality, the Audio-Technica AT2035PK is a terrific all-around podcast mic. This mic, which has a condenser with a big diaphragm, is excellent for recording due to its ability to pick up subtle subtleties in your speech.
The mic's enhanced frequency response also helps it pick up quiet sounds and reveal subtle nuances. Furthermore, it has a sturdy build that guarantees consistent operation for a long time to come. The Audio-Technica AT2035PK is designed to provide professional results whether you're recording in a studio or on the move. This microphone is perfect for a wide variety of recording applications, including podcasts, interviews, and more.
Here are some of the pros and cons of the Audio-Technica AT2035PK microphone:
Pros:
Excellent sound quality
Low noise
Versatile
Easy to use
Durable
Cons:
No built-in headphone amp
No pop filter included
The Audio-Technica AT2035PK is an excellent choice for a microphone set, especially for recording vocals. It's simple to operate, looks nice, and produces high-quality sound. The AT2035PK is an excellent choice if you need a high-quality microphone for live broadcasting, podcasting, or studio recording.
3. Razer Seiren X
If you're a podcaster searching for a user-friendly microphone, the Razer Seiren X is a fantastic option. The adjustable gain knob and integrated shock mount assist in tailoring the sound to the user's specific needs and surroundings.
The cardioid pickup pattern selectively records sound coming from in front of the mic, making it a great choice for podcasting in busy public spaces. A USB cable and a desktop stand are included, so you can get up and running without hunting down any more components right now.
The Razer Seiren X is a great option for a user-friendly microphone. Here are some of the reasons why:
Plug-and-play: The Seiren X is a USB microphone, meaning it may be used immediately after being connected to a computer. There is no software or driver installation required.
Simple controls: The Seiren X may be operated with just a few intuitive buttons. A mute button, volume control, and a toggle between two pickup patterns are also included.
Compact and portable: The Seiren X is a portable microphone that packs down compact and weighs next to nothing. It also includes a carrying case for safe transport.
Good sound quality: When compared to other USB microphones, the Seiren X's output is impressive. It reproduces sounds clearly and accurately and effectively blocks out ambient noise.
In conclusion, the Razer Seiren X is an excellent choice for a simple and straightforward microphone. It's lightweight, portable, and easy to set up, all while producing high-quality sound. The Seiren X is an excellent option if you need a microphone that can be plugged in and used immediately.
Here are some additional features of the Razer Seiren X that make it user-friendly:
Built-in shock mount: The Seiren X is equipped with a shock mount that muffles sounds and dampens vibrations caused by the user's touch. Because of this, it is an excellent option for use when streaming or filming in a loud setting.
Zero-latency monitoring: As you record or broadcast, you can keep an ear on your own voice thanks to the Seiren X's zero-latency headphone monitoring connector. This is a useful tool for preventing audio clipping and ensuring that your volume settings are set appropriately.
Supercardioid pickup pattern: The supercardioid pickup pattern of the Seiren X implies that it is only sensitive to sound coming from directly in front of the mic. The less distractions there are, the more attention may be paid to your voice.
The Razer Seiren X is an excellent choice if you need a simple microphone with high sound quality and a short learning curve.
4. Shure SM7B
The Shure SM7B is built to record vocals and instruments as they were meant to be heard. The mic is ideal for studio use because of its broad frequency response and low self-noise. The bass roll-off lever lets you adjust the sound to your liking, and the built-in pop filter helps eliminate distracting plosives from your recordings.
The mic is designed to minimise handling noise and vibration, resulting in even clearer audio. Because of this, you may record voices in an acoustically treated room or capture room atmosphere with a shotgun mic without sacrificing any fidelity. The Shure SM7B is a great option for any podcaster because to its high-quality recordings and sturdy design.
Conclusion
If you want your podcast to sound professional, you need a good podcast mic. Features like sound quality and noise reduction, as well as the microphone type that best meets your needs, should all be taken into account while searching for the finest podcast mic. You can choose from dynamic microphones, condenser microphones, or a USB microphone, all of which are widely used in podcasting.
This article discussed the merits and characteristics of podcasting, as well as four well-liked microphones. Thank you for reading this, I sincerely hope you found it useful.
References:
https://www.thepodcasthost.com/equipment/the-best-podcasting-microphones-on-the-market/
https://www.musicradar.com/news/best-podcasting-microphones
https://www.tomsguide.com/best-picks/best-podcasting-microphones
The Article The Best Podcast Microphones for Every Budget First Appeared ON
: https://ad4sc.com