Tips for Creating Your First Podcast
Want to launch a podcast that people love? You've found an appropriate site if so. In this post, we'll show you how to start a podcast the right way. We'll assist you with every step of starting a podcast, from deciding on a topic to locating recording hardware and editing software. By following our advice, you'll be able to produce a podcast that attracts and retains listeners.
1. Choosing the Right Topic
The first step in making a successful podcast is deciding on a subject. Choose a topic that both excites you and will pique the attention of your intended readers. Consider what you know most about and what information you can impart to your audience that they won't find anyplace else. Think of less-covered areas that may benefit from a podcast.
Think about what's happening in the market, and focus on being ahead of the curve by addressing topical or cutting-edge issues. You can examine what people are interested in hearing about podcasts by using keyword research tools like Google Trends. You may use this to generate a shortlist of show concepts from which you can choose.
After deciding on your podcast's genre, the next step is to do some background research on the subjects you plan to cover in each episode. This will help you prepare the questions you'll be asking guests and yourself. Get everything you need ready in advance so that your episodes are interesting and educational from beginning to end.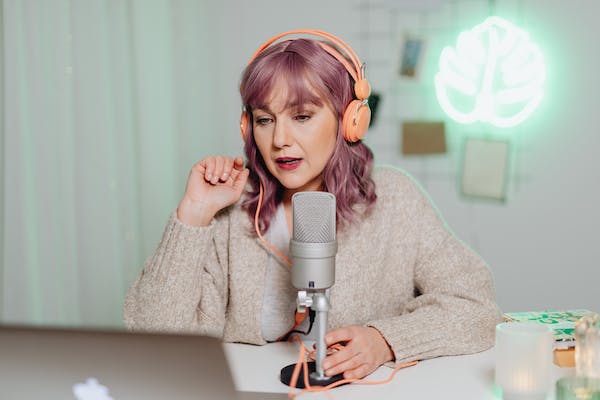 2. Selecting Equipment and Software
If you want your podcast to be interesting and professional, you must invest in the correct hardware and software. If you want your audience to take pleasure in what they're hearing, you need to put money into high-quality gear that eliminates distracting noises and glitches.
To begin creating podcast episodes, you must have access to a computer for recording, editing, and publishing. Most podcasters favour Macs because they work well with other Apple devices like iPhones and iPads. Personal computers (PCs) are also excellent choices because of the wide variety of prices and features they provide.
Next, you'll need a microphone that can take up clear audio without a lot of background noise. It's up to you to decide if an external mic or the one already included in your computer is better suited for your podcast. When conducting an interview, the sound quality can be greatly enhanced by using two microphones instead of one.
In order to mix your songs and produce a polished final result, you should also consider purchasing some entry-level audio editing software, such as Audacity or Adobe Audition. Google Analytics and Buzzsprout Insights are two tools that can help you gauge the size of your audience. These will provide helpful information on the number of listeners and the nature of their comments on social media.
Last but not least, research your hosting options to see whether Anchor FM or SoundCloud is the better fit for your needs. This will make uploading and sharing your material online much simpler.
3. Developing a Podcast Plan
For your podcast to go off without a hitch and on schedule, you'll need a well-thought-out plan. To begin, you'll need to establish a plan for releasing new episodes of your podcast. The duration of each episode is something to consider, as are the themes you wish to cover. Time must be allotted for finding and preparing show material.
It's also a good idea to create a set of rules or principles to follow when producing your podcast. Determining who will be in charge of things like inviting guests, preparing the studio for recording, creating show notes, and organising finished audio files all falls under this category. Establishing these guidelines in advance can help maintain focus throughout production and guarantee that everything is in order before releasing a new episode.
Also, plan ahead by making a budget so you know exactly how much money you have to spend on tools and software. Determine how much money you'll need on a monthly or annual basis to maintain the podcast's current level of production. So that you can keep making outstanding content without breaking the bank, this will help you figure out what resources you'll need and how much they cost.
4. Crafting an Engaging Format
Consider both the content and the delivery of your talk. If you're doing a sports podcast, for instance, you might want to have guests on each episode to talk about the current news and offer their thoughts. Include features on various sports teams, in-depth interviews with players, and recaps of previous games.
You should plan out the podcast's format and decide how long each episode will be. Each episode should have a defined beginning, middle, and conclusion so that it doesn't feel choppy or drag on for the viewer. Make an effort to maintain a steady rhythm throughout each episode for the sake of continuity.
You may also think about using other formats or aspects to improve the listener's overall experience. To reward their dedicated listeners, podcasts sometimes add bonus content, such as hilarious skits or tales connected to the episode's theme, musical interludes, or trivia questions. Make sure these additions don't detract from the show's overall quality but instead enhance the experience for the viewers.
5. Finding Listeners and Growing Your Audience
Building an audience can seem daunting but there are a few key steps you can take to reach more people.
The first step is to spread the word about your podcast. Share updates about your podcast on social media sites like Twitter and Facebook, as well as any other groups that might be interested in hearing about it. In addition, teasing listeners with previews of forthcoming or already broadcast episodes is a great way to get them interested in the show.
Making ensuring your podcast names contain relevant keywords that people could use to find new podcasts is another way to improve your podcast's discoverability through search engines. One additional wonderful technique to improve your podcast's search engine optimisation is to provide show notes with each episode.
Direct contact with potential listeners is another effective method. You may increase your podcast's exposure by contacting influential people or friends who may enjoy your podcast's subject matter and asking them to promote it to their audiences.
If you have any upcoming live events or speaking engagements connected to your podcast, be sure to let people know!
Exposure for your podcast may also be boosted by networking with other podcasters and experts in the field.
Participate in LinkedIn or Reddit discussions, go to podcaster-focused events, and reach out to influencers in your field to see if they can help spread the word about your podcast.
Get in touch with big-name streaming providers like iTunes or Spotify and let them know what you're up to; they may promote your podcast in their suggested podcasts sections. To gain both industry recognition and possible new listeners, you may choose to submit your work for prizes.
Conclusion
Podcasting is a fantastic medium for interacting with your target demographic. You may expand your audience with only the proper idea, tools, and software, as well as a well-thought-out approach, interesting structure, and high-caliber content. You can attract and hold the attention of your ideal listeners by producing a high-quality podcast with some planning and effort. Don't put it off any longer; begin immediately.
References:
https://www.pcmag.com/how-to/how-to-create-your-own-successful-podcast
https://riverside.fm/blog/how-to-make-a-successful-podcast
https://www.searchenginejournal.com/podcasting-tips-getting-started/346774/
The Article How to Start a Successful Podcast First Appeared ON
: https://ad4sc.com