Are you planning a trip to Palma de Mallorca? Do you want to explore the city and its surroundings with ease? Renting a car may just be the solution for you. With a rental car, you can have the freedom to go wherever you want, whenever you want. You can visit top attractions, discover hidden gems, and even venture off on day trips and excursions from the city.
In this comprehensive guide, we'll take you through everything you need to know about renting a car in Palma de Mallorca. From choosing the right rental company to understanding rental car insurance, navigating traffic and parking in the city, and exploring top attractions and beaches – we've got it all covered. So buckle up and get ready for an adventure on the roads of Palma de Mallorca!
Benefits of Renting a Car in Palma de Mallorca
You'll love how renting a car in Palma de Mallorca gives you the freedom to explore the island at your own pace. With a rental, you can drive along scenic routes and take in all the beauty that the city has to offer. You're not at the mercy of public transportation schedules or tour guides – you get to decide where you go and when.
Renting a car also offers convenience and savings. Imagine being able to stop anywhere for lunch or take an impromptu dip in the ocean during your road trip – it's all possible with a rental car. Plus, renting a car can actually save you money compared to taking taxis or joining organized tours. By having your own vehicle, you have more control over your budget.
Finally, renting a car is an adventure in itself. You get to experience driving on new roads with different rules and regulations than what you're used to back home. It's thrilling yet safe since most cars come equipped with GPS systems that make exploring easy and enjoyable.
To ensure that your rental experience goes smoothly, it's important to choose the right rental company. Keep reading for tips on selecting a reputable agency that will provide quality service while staying within your budget.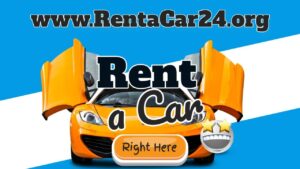 Choosing the Right Rental Company
Picking the perfect rental company can be a breeze when you know the factors to consider. Here are some important things to keep in mind as you compare different options:
Comparing rates: Don't just go for the cheapest option. Make sure you're getting a good value for your money by comparing prices across several rental companies.
Customer reviews: Check out what other people have said about their experiences with each company. Look for trends in comments and ratings to get an accurate picture of their strengths and weaknesses.
Availability of add ons: Depending on your needs, you may want to look for a rental company that offers extras like GPS systems or child car seats. Make sure these are available before making your reservation.
Also, pay attention to refund policies in case your plans change and you need to cancel or modify your reservation. And take a close look at the rental car fleet – make sure they have vehicles that meet your needs (e.g., size, fuel efficiency, etc.).
Choosing the right rental company can make all the difference when exploring Palma de Mallorca. By comparing rates, checking customer reviews, and looking at add-on availability and refund policies, you can narrow down your choices and find one that meets all of your requirements.
As you move forward with renting a car, it's important to understand how insurance works so that you can protect yourself from unexpected costs.
Understanding Rental Car Insurance
Before hitting the road, it's crucial to understand the ins and outs of rental car insurance. Rental policies differ from company to company, but most cover basic liability protection and collision damage waiver. The former covers any damages or injuries that you may cause to other people or their property while driving the rental car, while the latter relieves you of financial responsibility for any damage caused to the vehicle.
Coverage options usually include additional protection in case of theft or damage to personal belongings inside the car. It's important to note that deductibles apply for each type of coverage, which is an amount that you are responsible for paying out-of-pocket before insurance kicks in. Before renting a car, make sure you understand your deductible amounts and consider purchasing additional coverage if needed.
When considering rental car insurance, it's always better to be safe than sorry. While it can add up quickly, investing in comprehensive coverage can ultimately save you money and give you peace of mind on your journey through Palma de Mallorca. Now that you've got your insurance sorted out, let's talk about navigating traffic and parking in this bustling city without breaking a sweat!
Navigating Traffic and Parking in the City
Navigating the busy streets and finding a parking spot in Palma can be a challenge, so it's important to plan ahead. Here are some tips to help you make the most of your time exploring the city:
Familiarize yourself with traffic rules: In Spain, drivers must drive on the right-hand side of the road and give way to cars coming from the right at roundabouts. Make sure you have an international driver's license and that you understand local driving laws before hitting the road.
Be mindful of parking regulations: On-street parking in Palma is limited and often restricted to residents or permit holders only. Look for designated public car parks or use paid private parking options. Keep in mind that fines for illegal parking can be steep.
Consider public transport alternatives: If driving seems daunting, consider using public transport such as buses or trains instead. They are reliable, affordable, and cover many popular tourist destinations within Palma.
Explore on foot or by bike: Walking routes are well-marked throughout Palma and offer a great way to discover hidden gems while getting some exercise at the same time. Alternatively, renting a bike allows you to cover more ground than walking while still enjoying fresh air and scenic views.
By following these tips, navigating traffic and finding suitable parking spots will become easier during your stay in Palma de Mallorca! Now that you're ready to explore with ease, let's take a look at some top attractions in Palma de Mallorca that should not be missed.
Top Attractions in Palma de Mallorca
You won't want to miss out on these incredible attractions in Palma de Mallorca, so let's dive right in and see what's waiting for you! Start by exploring the city's top cultural landmarks. The stunning Gothic Cathedral of Santa Maria is a must-see, with its intricate architecture and breathtaking views. Another must-visit destination is the Royal Palace of La Almudaina, which showcases the island's rich history and culture.
When it comes to outdoor activities, Palma de Mallorca offers plenty of options. Take a stroll through Parc de la Mar or head to Bellver Castle for panoramic views of the city and sea. For beach lovers, Playa de Palma is just a short drive away from the city center.
As night falls, experience the vibrant nightlife options that Palma has to offer. From trendy rooftop bars to traditional tapas restaurants, there is something for everyone. Don't forget to check out one of the city's shopping districts like Passeig des Born or Avinguda Jaume III for some retail therapy. With all these amazing attractions at your fingertips, renting a car will give you the freedom to explore them all at your own pace.
As you plan your itinerary for exploring Palma de Mallorca with ease, don't forget about day trips and excursions from the city! There are many nearby destinations worth visiting such as Valldemossa or Soller. With so much beauty and adventure awaiting you on this island paradise, renting a car will make your journey even more unforgettable!
Day Trips and Excursions from the City
If you're looking to venture beyond the city limits, there are plenty of day trips and excursions from Palma de Mallorca that are worth checking out! Renting a car makes it easy to explore the surrounding areas at your own pace. Here are four options for getting out of the city and seeing all that Mallorca has to offer:
Mountain hikes: Drive up to the Serra de Tramuntana mountain range for some stunning hiking trails. The views from the top are breathtaking, and you'll get a chance to see some of the island's unique flora and fauna.
Vineyard tours: Take a scenic drive through the countryside to visit one of Mallorca's many vineyards. You'll have a chance to taste some local wines, learn about winemaking, and take in beautiful views of rolling hills covered in grapevines.
Coastal drives: Follow one of several scenic coastal routes around the island for stunning views of crystal-clear waters and rugged cliffs. Don't miss Cap de Formentor on the northern tip of Mallorca – it's an unforgettable experience.
Hidden villages: Take a break from tourist crowds and visit some charming hidden villages like Valldemossa or Deià nestled in lush green valleys surrounded by mountains.
Now that you've explored some day trip options, it's time to hit the beach! In our next section, we'll show you some of the best beaches to visit by car on your Palma de Mallorca adventure.
Best Beaches to Visit by Car
Get ready to hit up some of the most beautiful beaches in Mallorca with just a short drive! Renting a car in Palma de Mallorca is the perfect way to explore the island's stunning coastline. Some of the top activities you can enjoy at these beaches include swimming, sunbathing, and water sports such as snorkeling and paddleboarding.
One of the best scenic routes you can take to reach some of these hidden gems is along the coast from Palma de Mallorca towards Cala Major. Along this route, you'll come across several picturesque beaches such as Illetas Beach, which has crystal-clear waters that are perfect for swimming. Another hidden gem worth checking out is Portals Nous Beach, which boasts soft sands and beachfront restaurants where you can grab a bite to eat while taking in breathtaking ocean views.
If you're looking to indulge in some water sports while soaking up the sun, then head over to Playa de Palma. This beach offers an array of water activities such as windsurfing and jet skiing. Additionally, there are plenty of beachfront bars where you can relax with a refreshing drink after your fun-filled day at the beach.
As you plan your road trip around Palma de Mallorca's stunning beaches, keep safety in mind. In our next section on tips for a safe and enjoyable road trip in Palma de Mallorca, we'll provide guidance on how to stay safe on the road while exploring all that this beautiful island has to offer.
Tips for a Safe and Enjoyable Road Trip in Palma de Mallorca
Now that you have a list of the best beaches to visit by car in Palma de Mallorca, it's important to prepare for a safe and enjoyable road trip. Whether you're a seasoned driver or not, there are some tips you should consider before hitting the road.
Firstly, take advantage of the scenic routes available in this beautiful island. From mountain roads to coastal drives, there are plenty of breathtaking views to enjoy while driving around Palma de Mallorca. However, be aware that some roads may require extra caution due to their narrowness or difficulty level.
Secondly, prepare for any unexpected situations by getting roadside assistance coverage from your rental company or a third-party provider. This will give you peace of mind knowing that help is just a phone call away if anything goes wrong with your car during your trip.
Thirdly, don't miss out on trying the local cuisine along your route! Stop at authentic restaurants and cafes to taste delicious dishes such as paella, sobrasada and ensaimadas – all traditional Majorcan foods.
Lastly, be mindful of language barriers and emergency procedures in case something goes wrong. Make sure you have an understanding of basic Spanish phrases that could come in handy during an emergency situation.
By following these tips and being prepared for any situation that may arise during your road trip around Palma de Mallorca, you can make the most out of your experience and create unforgettable memories!
Frequently Asked Questions
What is the minimum age requirement for renting a car in Palma de Mallorca?
To rent a car in Palma de Mallorca, you need to be at least 21 years old and have a driving license validity of at least one year. However, some rental companies may require drivers to be 25 or older for certain types of rental cars. If you are younger than 25, you may also have to pay underage driver fees. When renting a car, it's important to consider your rental car insurance options. You can choose between basic insurance or full coverage for additional protection in case of an accident. As for the types of rental cars available in Palma de Mallorca, there is a wide range from economy cars to luxury vehicles that cater to different budgets and preferences. Overall, renting a car in Palma de Mallorca is an excellent way to explore the island with ease and flexibility while enjoying the freedom of the open road.
Are there any toll roads in Palma de Mallorca and how much do they cost?
Are you wondering about the toll roads in Palma de Mallorca? Yes, there are several toll locations throughout the island. The cost of toll fees varies depending on your route and vehicle type. Payment methods typically include cash or credit card, but some toll booths may only accept one or the other. It's always a good idea to carry small bills and change with you just in case. However, there are also several toll-free routes available if you want to avoid paying extra fees. If you plan on driving frequently during your stay, consider looking into any available discounts for frequent users of the toll road system. Overall, be aware of the potential costs associated with using the toll roads and plan accordingly to ensure a hassle-free driving experience while exploring all that Palma de Mallorca has to offer.
Is it possible to rent a car for just a few hours or do rental companies require a minimum rental period?
Looking for a quick rental option? Many rental companies offer hourly rentals or short term rentals, but it's important to check their policies and rates before booking. Some companies may require a minimum rental period, so be sure to ask about their rental options when making your reservation. When it comes to rental rates, they can vary depending on factors such as the type of car you choose and the duration of your rental. However, if you're looking for the freedom to explore Palma de Mallorca at your own pace, renting a car is definitely worth considering. With plenty of beautiful sights and attractions waiting to be discovered, having access to your own vehicle makes it easy to experience everything this stunning island has to offer.
Can I use my own car insurance instead of purchasing rental car insurance?
Yes, you can use your own personal insurance when renting a car instead of purchasing rental car insurance. However, it's important to note that there may be coverage limitations and deductible options with your personal insurance that could leave you responsible for additional costs in the event of an accident or damage to the rental car. On the other hand, rental car insurance benefits can provide more comprehensive coverage and potentially save you money in the long run. If you prefer not to purchase rental car insurance, it's worth exploring alternative options such as credit card benefits or travel insurance policies that may provide some form of rental car coverage. Ultimately, the decision is up to you and what level of risk you're willing to take on while exploring Palma de Mallorca with ease.
Are there any restrictions on driving a rental car outside of Palma de Mallorca?
If you plan to drive a rental car outside of Palma de Mallorca, there may be some driving restrictions that you need to consider. First and foremost, make sure you have an international driver's license before hitting the road. This will help avoid any legal issues if stopped by local authorities. Additionally, check with your rental car company about their policies regarding driving outside of Palma de Mallorca and whether rental car insurance covers you in other areas. It is also important to research parking options beforehand as parking can be limited in certain areas. If driving isn't your thing or you want to avoid the hassle of finding a parking spot, there are public transportation alternatives available such as buses and trains which offer affordable and convenient ways to explore the island.
Embark on a seamless exploration of Palma de Mallorca by visiting www.rent24.org today. Discover a comprehensive guide to renting a car, and easily book your perfect vehicle online for a memorable and convenient travel experience.
The Article Exploring Palma de Mallorca with Ease: A Guide to Renting a Car First Appeared ON
: https://ad4sc.com